---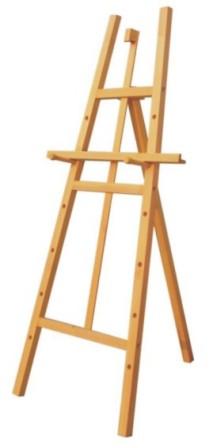 Wooden Display Easel (Economy)

Designed to work with a variety of chalkboards, marker boards, and poster frames, this wooden display easel is perfect for lobbies of hotels, restaurants and businesses. Standing at 57" tall fully assembled, the natural wood finish gives a classic vibe without drawing attention away from the actual displays. With 6 holding peg positions and a rear chain-support system, you can be sure that this easel can handle any job you throw at it. Ideal for both casual and professional settings, our easel can help you convey any message to your audience!
Features:
Design to Work with a Variety of Items

Natural Wood Finish

Ideal for Both Casual and Professional

6 Holding Peg Positions and Rear Chain-Support System

Stands at 57" Tall Fully Assembled

Object Min. 19.25" X 24"

Object Max. 19.25" X 41"

Dimensions: 57"x 21"x 27"

Weight: 6.5LB
wooden, display, easels, easel, signs, sign,company, las vegas, henderson, nv, marker
Feel free to contact our Las Vegas printing company for a quote.